Greetings dear Cowlitz Habitat friends, (UPDATE FROM 6-30-20)
Briefly, our Habitat Store is OPEN on a LIMITED BASIS - 10 am to 4 pm. Please call the Store at 360-636-6765 for questions and/or to be placed on the curb-side pick up only listing.
Our office is open on a limited basis Monday through Friday 10 am to 3 pm by appointment only and we are working as diligently as able remotely to continue to serve our families and community.
Currently, this schedule will run through July 15th.
Do know we will do our best to connect with you as timely as possible. Thank you for your patience.
WE ARE HIRING A STORE MANAGER (JOYCE IS RETIRING!) and a PART-TIME STORE DRIVER. Please EMAIL the office for more information at office@cowlitzhabitat.org THANK YOU.
Thank you to those who are also reaching out with kind words, warm hearts and prayers.
This will continue to make a difference.
The need for housing – safe and decent – is more needed now than ever. Continue to lift those without shelter in your prayers and those who are struggling with isolation and depression, those who have lost their jobs and other consequences of this challenging time. We have an opportunity and are being called to be our best selves and care for each other and our community like never before. As we pray, ask God to open our eyes to the needs and ways in which we can respond generously and appropriately. Draw strength from each other and HOPE. Hope that our Lord will give us wisdom and strength. Hope for what is to come… Stay strong and we encourage our friends, our family members and even those we have never met and with a hopeful heart and intentional prayer. Just like the disciples, we are called to go into all the world with a message of great hope. I urge you to remember the promises of God who loves us and who, by His grace, encourages and strengthens us. You remain close in our thoughts and prayers.
Blessings from your Habitat Staff and Board

Corona COVID19 Virus Update Week of March 30th- April 6th: Now through July 15th
Good afternoon, CCHFH Friends! May this find you and your loved ones well. As the impact of COVID-19 (coronavirus) continues to be felt around the world, we would like to say thank you for your kindness and for being vital supporters of Cowlitz Habitat! Please check out our weekly newsletter, facebook and visit our website for updated information.

While our Store is open on limited basis - TUESDAY through FRIDAY 10 am to 4 pm STORE # 360-636-6765 and our
Office 360-425-6177 on limited hours Monday through Friday 10 am to 3 pm to serve our clients, we want you to know our team is working tirelessly to provide our clients and community with as much support and outreach as possible. We can't wait to welcome back the heart of our organization – OUR VOLUNTEERS & SUPPORTERS – back into our fold - on our Construction sites, Habitat Store and throughout our community neighborhoods. Our office will be open by appointment only to our homeowners and applicants for financial services. You can call (360) 425-6177 and schedule a time to stop by Tuesday through Thursday 10 am to 3 pm this week or next. The doors remain locked, so please knock on the door and we'll greet you there.

As we navigate through our most recent government mandates, which rightfully encourage and even order us to stay home in order to protect the lives of our most vulnerable residents, it is critical that we come together as a community and fully support one other. Right now, many of us are working from home, and we are reminded that our HOMES are our only safe place. We must provide that safety net to people in our community who will be hit hardest by this crisis—they are our neighbors. For many "shelter in place" means figuring out logistics and adjusting mindsets, for others it only exacerbates the living conditions with which they have struggled for so long..

As the need for stable, affordable homes drastically increases for many people in our community, we continue to advance our mission with the following priorities:
​
- Building on the Long Avenue site so that our family can move into their safe, stable and affordable home.
- Finalizing construction planning work for the lots we purchased out in Lexington – This will house a minimum of 4 additional families.
- Supporting Habitat homeowners who are facing the challenges of lost incomes and no child care along with limited critical resources.
- Advocating at the local and state level for protections to help homeowners due to the financial pandemic impacts

At Cowlitz County Habitat for Humanity, safety always comes first. To that end, we made some changes to protect the health and well-being of staff, volunteers, homebuyers, shoppers and our community at large. Please check out our weekly newsletter and visit our website for updated information.

Although you may not be able to swing hammers with us for a little while or help us at our Habitat Store or Office, you can make an impact by sharing our message with your networks, and making a donation to Cowlitz County Habitat for Humanity to support affordable homeownership locally throughout Cowlitz County. When we emerge from this crisis, let us emerge stronger, together!
You can reach us by phone and leave a message at 360-425-6177 or send an email to our CEO, Diane Perron at dperron@cowlitzhabitat.org if you can help us in this critical time and financial need.

Donations can be made on our website at www.cowlitzhabitat.org or mail to:
Cowlitz County Habitat for Humanity at PO Box 1451, Longview, WA 98632.

WE thank you for your continued support, understanding and kindness as we all work TOGETHER through this global crisis. TOGETHER, WE WILL GET THROUGH THIS and continue to make a difference for our families struggling without the safety of a HOME!

Closures due to Coronavirus - COVID-19 Update: March 25th, 2020
Office Closure
In order to protect the health and safety of our community and staff, our office will be closed to walk-ins until further notice. We will schedule face-to-face meetings with homebuyers/homeowners when it is absolutely essential. Thank you for your understanding. You can call us at the OFFICE at 360-425-6177 and we will return your call as quickly as able. You may also send an email to our CEO at dperron@cowlitzhabitat.org or our Volunteer Coordinator at volunteer@cowlitzhabitat.org. We will be checking our email messages regularly.
Volunteers
We continue to hold the health and safety of our volunteers, staff, supporters, and partner homebuyers as our number one priority. With this in mind, and in light of the Governor's recent announcements regarding slowing the spread of COVID-19, we've made the difficult decision to cancel all volunteer shifts on the build sites and at our Habitat Store until April 7th. Depending upon the situation at that time, we will send out another follow up and let you know dependent upon ability with state-wide health assessments. In order to maintain our commitment to our partner homebuyers, we will continue to build. Again, these restrictions may change or be prolonged as circumstances evolve. We will continue to monitor the situation and comply with all guidelines from Washington and Cowlitz County Health Authority and the Centers for Disease Control.
Homeownership Education Classes
We have cancelled all homeownership education and mentoring in-person classes. These closures may be prolonged as circumstances evolve. We will continue to monitor the situation and notify all class participants via email. We are working on developing and offering our educational and training series to our various partners and communities in which we provide revitalization support to. We will be forwarding emails out to our partners and community center leaders with updates and on line opportunities and schedules.
Habitat Store Closed
Due to concerns over the spread of COVID-19, our Habitat Store (located in Kelso) will temporarily close. We temporarily closed on March 24th and hope to reopen on April 7th. Restrictions may change or be prolonged as circumstances evolve. We will post this information on our Store Facebook site, weekly e-newsletter, signs at the Store and on our website.
Residential donation pickups will also be canceled until further notice. Donors have been contacted. If we missed reaching you directly, please call our Store at 360-636-6765 and a member of our team will get back to you as quickly as able. We do hope to minimally begin receiving drop-off donations in a week or two, and will keep you posted.
We have made this difficult decision out of concern for the health and safety of our customers, donors, volunteers and staff. We want to do our part to reduce their risk of exposure to the coronavirus, and reinforce healthy communities.
We will continue to monitor the status of COVID-19, and keep you informed of developments as it pertains to reopening our store. In the time being, we will be exploring alternative options to provide deeply discounted home improvement products that will allow us to continue to support our mission to build affordable Habitat homes. In the future, look for the possibility of new online sales features and perhaps an additional pick up day.
Please stay tuned, and check for updates on Facebook, weekly e-news and on our website for your continued support of the Cowlitz County Habitat affiliate and store. We will miss you and look forward to our regularly set schedule in the near future.

For the time being, please stay healthy and for those that have the gift of a safe home, please stay home and stay healthy! We appreciate each of you and your continued support and patience as we together learn how to navigate these difficult times.

Cowlitz Habitat has chosen to embody these values, and the steps we are taking now are taken in this same vein. May you be healthy, may you be well, and may you and yours feel God's love around you.
Be well, Diane and your Cowlitz County Habitat for Humanity Family



Our Mission, Vision, Strategy and Values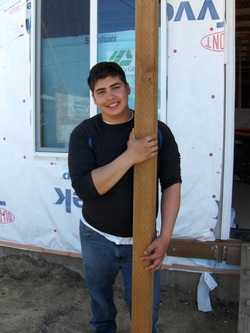 Joseph (son of of Maria R) working on their new home.
We seek a world where everyone has a decent place to live.
Our Mission:
Seeking to put God's love into action, Cowlitz County Habitat for Humanity brings people together to build HOPE, homes and communities.Our Vision: A world where everyone has a decent place to live.

Cowlitz County Habitat for Humanity is a nonprofit, Christian housing ministry that seeks to eliminate poverty housing in the community and to make simple, decent shelter a matter of conscience and action. We strive to put shelter on the hearts and minds of all people such that poverty housing and homelessness become socially, politically, and religiously unacceptable in our nation and in the world. We strive to engage all community members to provide the necessary resources, money and labor, to fulfill our mission.
Our Strategy:
We seek out God's people in greatest need, with sufficient resources to pay back the cost of house construction or renovation, at no interest or profit, who are willing to partner with us. All partner families must complete a minimum number of sweat-equity hours before they can take possession. Habitat for Humanity provides all partner families with advocates, for a minimum of 6-months, to assist in making the transition to home ownership as smooth as possible.
Our Values:
Our Christian foundation calls for us to set aside religious differences and work toward a common goal: to eliminate poverty housing in our community. Our values set the stage for this work:
Partnership
: From its very conception, Habitat for Humanity has been built on partnerships — partnerships with families, churches, area corporations, community organizations, and individuals. We believe in the power of families working side by side with volunteers to build a Habitat House.
Homeownership
: We believe in the power of homeownership to change lives, improve communities, and build the hope that can break the cycle of poverty.
Diversity
: We believe that everyone, from all walks of life, deserves a decent, affordable place to live and that each person has something to contribute to building houses!
Volunteerism
: We believe in the power of a community coming together to make a difference, and we are committed to providing exceptional volunteer experiences.
Stewardship:
We believe we are responsible to our community and to those who give generously so that we can continue to build houses in partnership with families in need. We are committed to excellence and to the efficient use of our resources, and are accountable to our families, volunteers and those who provide us with financial support.
​
Habitat for Humanity International and its affiliated organizations (HFH) including CCHFH will not proselytize. Nor will CCHFH work with entities or individuals who insist on proselytizing as part of their work with CCHFH. This means that CCHFH will not offer assistance on the expressed or implied condition that people must (i) adhere to or convert to a particular faith or (ii) listen and respond to messaging designed to induce conversion to a particular faith.
---
A Little More About Us - CELEBRATING 20 YEARS in Cowlitz County! THANK YOU for your SUPPORT!
We have been serving Cowlitz County since 2000. During this time, we have served nearly thirty families in our traditional build portfolio of products and many more families through various support programs. It is our goal to greatly increase our ability to serve as many more families and to build sustainable communities and partnerships throughout Cowlitz County. We thank each of you who have made a significant difference in supporting our mission and serving families in need.
Cowlitz County Habitat for Humanity has annual audits and you are welcome to stop by our office to review the most current copy of this or review our 990. We hope to be able to download this on our site soon. We strive to be excellent stewards of funds and the gift in kind donations received and believe our audit review and 990 reflect this. Thank you for your support!
If you would like to volunteer you can go to our volunteer page or contacting us directly. We are always looking for
supporters
,
volunteers
and new
partner families
. You may also
reach us directly by calling the office at (360)425-6177 or our Habitat Store at (360) 636-6765
. THANK YOU!!
Cowlitz County Habitat News

---

​GET INVOLVED!
SHOP! DONATE! VOLUNTEER!
​
Our volunteers provide most of the labor and support services; Individual and corporate donors provide financial assistance and (GIK) materials to build Habitat houses. Partner families invest hundreds of hours of labor - "sweat equity" - into building their homes and the homes of others. Their mortgage payments go into a fund for Cowlitz Habitat that is used to build more houses.